Cars and Features for Dog Lovers
Have you ever wanted it to be easier to transport your furry best friend? Sometimes, transporting your dog from place to place can be quite challenging, especially when they get dirty. Let's talk about some of the features that make it easier to get around with your pets!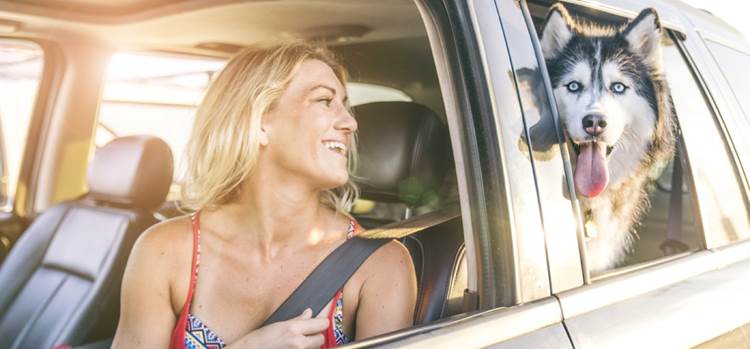 Dog-Friendly Features
When looking for a vehicle, or upgrading your current vehicle, for those that love their pets, the following key features will come in the most handy:
All-Season floor mats, and vinyl seats (or maybe just seat covers)
Dogs are awesome at finding mud puddles and dirt and rolling in it and having a good time – and they usually don't bother to think about how this is going to affect your car. Plan ahead by purchasing some great floor mats or seat covers, or by buying a car that comes more easily-cleanable than most!
Climate control
In Arizona especially it gets pretty hot – you may want to consider getting a car with vents in the back seat area where your dog will likely sit while driving, to make sure that they are just as comfortable as you are!
Vehicle height
This comes more into play if you have a small dog, older dog, or dog with health issues. We can't always heavily prioritize our large purchases tailored to our pets of course, but it may be something to consider if you are planning to travel with your pet frequently and are worried about them being able to jump on in on their own.
Pet gates
This is something you would purchase aftermarket on your own, but if your furry friend needs to be on top of you at all times, you may want to consider purchasing a gate to sit in between the driver and rear passenger seats. This will make it a lot easier for you to get to your destination safely and avoid any distractions while driving!
Seats that fold down
If you want more space for your pet, or to be able to create more comfort for them on a road trip, fold-down seats in some vehicles may be essential! Aside from creating more space for moving items for daily use, it's also a great feature for your pet!
A word on safety
And as always with pets (and children!), make sure you don't leave them in the car unattended in the summertime. The temperature rises very quickly inside a car in the summertime, and will reach deathly heights within minutes! Either leave the car running with A/C, or just don't leave your pup in there – it could be a difference of life or death!
https://www.chaneyscollision.com/wp-content/uploads/2018/06/Chaneys-1.png
0
0
Chaneys Collision
https://www.chaneyscollision.com/wp-content/uploads/2018/06/Chaneys-1.png
Chaneys Collision
2018-10-02 22:54:14
2018-10-02 22:55:45
Cars and Features for Dog Lovers